Table of contents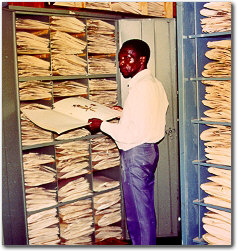 ---

Being a national centre for assemblage, growth, curation and classification of a comprehensive collection of all plants in Malawi the National Herbarium has contributed towards conservation of the biological diversity. The National Herbarium is currently the focal point on plant component of biological diversity related issues in Malawi and also is a chair of the National Biodiversity Committee. It also chairs the Clearing House Mechanism of the Convention on Biological Diversity which aims at facilitating access to and the exchange of information on biological diversity around the world. Furthermore, the National Herbarium is been voted to house the National centre for invertebrate collection and identification which will document and maintain reference material.
---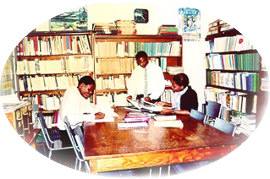 The institution has a library, which holds over 790 accessions (e.g. floras, monographs, botanical journals). The library is open to the general public although books cannot be taken out. However, book can be obtained on inter-library loan.
Botanic Gardens
---
Aloe collection in Botanic gardens
The first Botanic Garden was established in Zomba by Alexander Whyte between 1891 and 1895 and was originally the grounds of the British Consul's Residency (now the Government Hostel). The garden was meant to be an experimental area for newly introduced plants in order to promote agricultural enterprise. After Independence the maintenance of the garden was entrusted to the Forestry Department until it was transferred to the NHBG in 1987. To-date the NHBG has established gardens in Lilongwe and Mzuzu cities. Lilongwe Botanic Garden occupies the area between Area 18 roundabout and Capital Hill Offices and is bordered by Presidential Way and Chayamba Road to the South and North respectively and Kamuzi Procession Road to the west. Mzuzu Botanic Garden occupies the old Lunyangwa Forest Reserve West of the Lunyangwa Agricultural Research Station

The three botanic gardens are involved in both in situ and ex situ conservation of rare and endangered plant species, e.g. Wilddringtonia whytei (Mulanje Cedar) and Khaya anthotheca (Mbawa). They also offer recreational and educational services; propagate and sell a number of ornamental and indigenous plants.