Table of contents
---


The National Herbarium and Botanic Gardens of Malawi (NHBG) is a parastatal botanical institution. It is the principal authority on botanical and related matters in Malawi. The NHBG administrative headquarters is located about 3 km N.W. of Zomba town centre overlooking the Government Press, Parliament, and Malawi National Examinations Board.
---

The National herbarium houses over 90, 000 plant specimens (including mushrooms, ferns, mosses, algae, lichens) collected all over Malawi and a carpological collection of about 200 accessions. The herbarium therefore is Malawi's plant data bank and hence is very important for plant identification, taxonomic research, reference and loan exchange of herbarium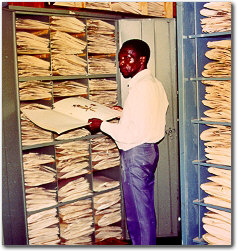 specimens between herbaria. Using information from herbarium specimen labels staff at the National Herbarium can provide phenological data of most plant species, their distributions, habitats and uses.
The National Herbarium
---
The history of herbaria in Malawi dates back to 1930 when the Department of Agriculture, Division of Plant Pathology established the first herbarium in Zomba. This was later transferred to Chitedze Agricultural Research Station, Lilongwe. Another herbarium was established in 1956 in Zomba by the Department of Forestry and was later transferred to Chongoni Silvicultural Research Station, Dedza (Now Malawi College of Forestry and Wildlife). A university herbarium was established in 1966 at Chichiri campus, Biology Department and inherited all specimens from the Agricultural herbarium. This herbarium was expected to develop into a broader independent botanical institution useful in the field of conservation, botanical research, education and technical services. The university and the Forestry herbaria merged to form the National Herbarium of Malawi in 1987. The National herbarium is located in Zomba with regional herbaria in Lilongwe and Mzuzu.